The Ministry of Foreign Affairs (MOFA) yesterday denounced China's alleged interference in the World Congress on Innovation and Technology in Penang, Malaysia, which saw event organizers prevent a Taiwanese beauty queen from to join other contestants on stage to welcome convention attendees.
The incident, which happened on Tuesday, was revealed in a video uploaded to Facebook later that day by Taoyuan Information Technology Department General Manager Karen Yu (余宛如).
The event's opening ceremony on Tuesday brought together contestants of the Miss Asia Global International Pageant, which kicked off Saturday and will continue through the weekend, greeting contestants in their native languages ​​and waving their national flags.
Video posted by Yu shows a congress staff member preventing Taiwanese candidate Kao Man-jung (高曼容) from taking the stage, with Kao bursting into tears immediately afterwards.
Chinese pressure is said to be behind the action of the organizers of the event, which the ministry and Yu have criticized.
In a statement released on Wednesday, the ministry strongly condemned China's intimidation of Taiwanese and its intervention in unofficial exchanges, while expressing "regret and frustration" at the "erroneous decision" of the event organizers, for which he asked the Economic and Cultural Council of Taipei Office in Malaysia to issue a protest.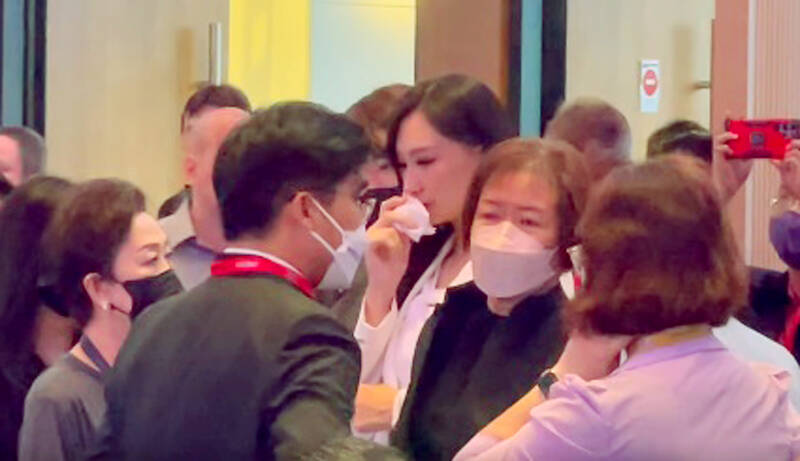 Photo: taken by Karen Yu FB
Taiwan is a sovereign country and its people have the right to fly its national flag at international events, the ministry said.
"China's bullying is everywhere and has permeated even this ICT gala," Yu said.
Taiwanese attendees chanted slogans to let the audience know that Taiwan's Miss Asia Global contestant was there, Yu said.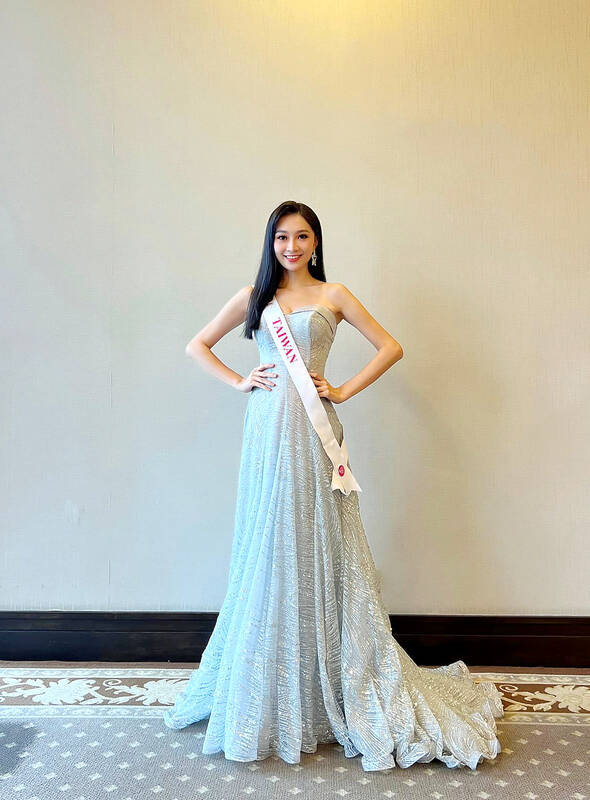 Photo: taken on FB
Event organizers later apologized to Kao, saying that due to a "last minute change" they could not allow him to appear on stage, Yu said.
"MOFA stands with Kao and all Taiwanese in their efforts to defend Taiwan in international contexts in their respective areas of expertise," the ministry said in the statement.
Separately yesterday, Frida Tsai (蔡培慧), Democratic Progress Party candidate for Nantou County Commissioner in the November 26 local elections, said dictatorship will never prevail over democracy.
It is saddening and infuriating that Kao, from Puli Township of Nantou (埔里), was prevented from performing at the Penang event due to Chinese pressure, she said, calling on the people to express their solidarity with Kao.
Comments will be moderated. Keep comments relevant to the article. Remarks containing abusive and obscene language, personal attacks of any kind or promotion will be removed and the user banned. The final decision will be at the discretion of the Taipei Times.